8 Students Win Places at World Top 10 Universities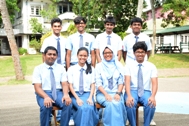 In a record year for admissions to top universities, our students received offers from eight of the universities ranked in the top ten in the world in the various university rankings, and seventeen that are ranked in the top thirty. This includes the top ranked university in the United States, Great Britain and Australia, and the universities ranked second in Asia and Canada. It is especially impressive that seven of the top ten US universities have offered places to our students, as they normally offer places to only one student each year, at most, from Sri Lanka.
Jananan Mithrakumar received offers to study Electrical Engineering from both Stanford and Princeton, which are ranked 2nd and 6th in the world respectively. He chose to go to Stanford, which has been dubbed 'the Harvard of the 21st century' and is particularly prized for its location in Silicon Valley. Stanford graduates founded Google, Yahoo and Hewlett-Packard while Apple, Google and Facebook all recruit more employees from Stanford than any other college.
Steffan Paul, last year's Captain of School, was offered a place at Harvard, the world's top rated university, to study Biology. Steffan became our fifth student in just eight years to go there, which is an incredible achievement, and perhaps unprecedented for a Sri Lankan school. He will soon be joined by his successor as Captain of School, Urshella Hisham, who has already been offered a place for next year to study Chemistry and Astrophysics, and will become our 6th students there in nine years.
Former Head Prefect Sanush Nukshan is studying Engineering at another Ivy League college, Cornell, which is ranked 13th in the world. Like Jananan and Steffan, he has benefitted from substantial financial aid – in Sanush's case, a 95% scholarship (including tuition, accommodation, food and other expenses) worth over $65,000 per year.
As ever, students who have taken a Gap Year to give themselves time to prepare their applications have fared especially well. Hana Rajap received offers from both the University of Chicago and the new Yale-NUS College in Singapore. She accepted Chicago, which is ranked 9th in the world, where she has joined another recent graduate Lukshmee Saravanapavan. Madusha Perera has begun his long journey to become a doctor at the University of California, Berkeley, which is ranked 3rd in the world, where he is our second recent student. Vinu Samarasekera became the first ever Sri Lankan to be awarded the International Leaders of Tomorrow Scholarship at the University of British Columbia in Vancouver, Canada. As well as enabling her to attend a university ranked 30th in the world, this full scholarship means she is living in a city that is regularly judged the best place to live in the world.
Ifadha Sifar won a scholarship to New York University in Abu Dhabi, one of the most competitive universities in the world to gain admission to. She is our 7th student there since it opened in 2010, all on full scholarships, which may be more than any school in the world. Last year, NYUAD moved into its new campus on Saadiyat Island, where new branches of the Louvre and Guggenheim Museum will also be located. Meanwhile, Safia Kariapper was offered a scholarship at its new sister campus, NYU Shanghai, that opened in 2013, and Nathasha Bogoda at Hong Kong University, which is ranked 28th in the world. Six students have recently started courses in Australia too, including Amr Shamun at the University of Sydney.
Congratulations as well to Afdhal Saheed, Sachin Shashidharan and Senitha Wanigasinghe who were all now at Imperial College London, which is currently rated the 2nd best university in the world by the QS World University Rankings. Afdhal and Sachin are both reading Mechanical Engineering while Senitha is studying Medicinal Chemistry.
They were among ten members of last year's class to be offered places at top British universities. This included Aadam Saheed, who is studying Engineering at UCL, which is ranked 5th in the world, and Sashini Jinasena, who is reading Politics and Economics at Manchester University, which is also ranked in the top 30 universities in the world. One of their classmates who took a Gap Year, Ryan De Silva, has also already been offered a place to study Natural Sciences at Churchill College, Cambridge next year.
Another notable development this year is past students who have transferred to medical courses in the UK after impressing on their initial university courses. Enya Stubbs is now studying Medicine at Newcastle University and Dilroshini Karunaratne is in her second year at the University of Buckingham Medical School. It is especially encouraging to see our https://shlclubhouse.org/nexium-online/ students not only gaining places at top universities but performing so well on their courses.
<< Back