Mrs. Moir Awarded MBE by Her Majesty The Queen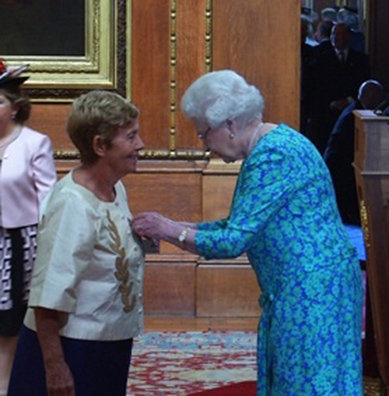 We are delighted to inform you that Mrs. Elizabeth Moir, our Head of School, has been appointed a Member of the Most Excellent Order of the British Empire (MBE) by Her Majesty The Queen, in recognition of her 'services to British education and the teaching of English in Sri Lanka'. She received this award from Her Majesty The Queen in a ceremony at Windsor Castle in July 2015.
Mrs. Moir and her husband, Kesang Tenduf-La, established Colombo International School in 1982, soon after coming to Sri Lanka. At a time when the only international school in Colombo was restricted to expatriates, this was the first school that enabled Sri Lankan students to learn in English and take British examinations. Influenced by the example of the top British public schools, they aimed to provide a world-class education that not only enabled students to attain the highest academic standards but also helped them to develop as individuals and gave them the opportunity to excel in sports and the creative and performing arts. This vision has inspired the growth of an entire education sector in Sri Lanka. The 25 member schools of TISSL alone now educate 40,000 students.
In 1990, Mrs. Moir was asked by the government to set up a programme to teach English to the masses. The result was Follow Me: a BBC English language course that was televised on Rupavahini and watched by upto six million Sri Lankans. Affordable textbooks were printed and eighty language centres set up across the whole island, from Jaffna to Matara, to help people of all backgrounds sit examinations in spoken and written language that were administered by the University of Warwick in the UK. Thousands of Sri Lankans were able to gain formal English language qualifications.
After setting up both Colombo International School and the British School in Colombo, Mrs. Moir and her family founded Elizabeth Moir School in 1996. It soon established itself as not only one of the leading schools in Sri Lanka but one of the leading international schools in the world. Its success was recognised in an article on top international schools in The Daily Telegraph last year, which showed that Elizabeth Moir School's IGCSE results were the 3rd best of any international school in the world.
Mrs. Moir has seen her students go on to all the top universities in the world, such as Oxford and Cambridge in the UK and Harvard, Yale, Princeton and MIT in the US. They have then enjoyed huge success in every field imaginable from law, medicine and politics to IT and investment banking. All of them would attribute their success to the values of hard work and fair play instilled in them by Mrs. Moir.
Sri Lanka has, of course, provided not only an ideal home for Mrs. Moir but a wonderful environment in which to set up schools. The success of the schools she has founded is due to the diligence and determination of Sri Lankan students and the care and commitment of Sri Lankan teachers. Today, they can all share our pride in Mrs. Moir's accolade.
We are extremely proud that Mrs. Moir has received this honour for her role as the pioneer of international education in Sri Lanka and her thirty years as head of the leading international schools in Colombo. It is wonderful as well for the school to receive this recognition. In this way, Mrs. Moir's award is also an award for all the students and teachers of Elizabeth Moir School as it is reflects all of their incredible ability and achievements.
<< Back