Moir Represents Sri Lanka in International Robotics Olympiad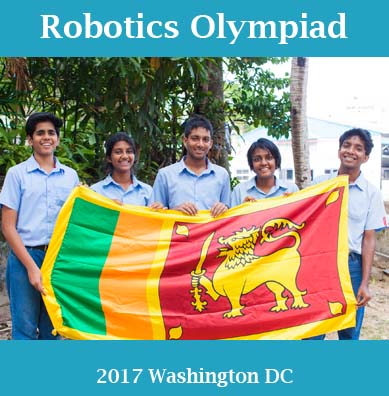 Elizabeth Moir School was selected to send a team to represent Sri Lanka in the inaugural International Robotics Olympiad organised by FIRST Global in Washington, D.C. in July 2017, joining teams from 162 other countries.
The competition received global media coverage, after the all-girl team from Afghanistan was initially refused visas. Other teams to garner media interest were Iran, who were unable to bring their own robot due to sanctions on technological exports; Team Hope, consisting of three Syrian refugees; and South Sudan, who won a gold medal for Courageous Achievement. Highlights of the event were a visit from Ivanka Trump before the Opening Ceremony and an inspiring speech at the Closing Ceremony by the President of the World Bank, Dr. Jim Yong Kim. Our students also met Prasad Kariyawasam, the ambassador for Sri Lanka to the USA, and were invited to dinner by Professor Gamini Keerawella, the Deputy Chief of Mission.
FIRST ('For Inspiration & Recognition of Science & Technology') was established in 1989 to inspire young people in America to take an interest in Science, Technology, Engineering and Mathematics (STEM) and inspire them to become leaders and innovators. It organises four Robotics competitions for teams of high school students every year at different age levels, from 6 years upwards, based on the two values of 'Gracious Professionalism' and 'Coopertition'. Its main competition celebrated its 25th anniversary last year with over 3,000 teams and 75,000 students taking part.
FIRST Global was established to organise a similar annual international robotics competition to take place in a different nation's capital each year. Each FIRST Global Challenge addresses one of the 14 Grand Challenges for Engineering for the 21st century identified by the US National Academy of Engineering, such as making solar energy economical or reverse-engineering the brain. This year's Challenge Theme was to provide Access to Clean Water by filtering contaminated 'water' and storing purified 'water'. Teams' robots had to separate pollutants (orange balls) from clean water (blue balls). A key part of the game is teamwork as each team was required to work with two other national teams in an alliance against an alliance of three other nations. Each team was also asked to prepare a video to introduce their team and country, and Team Sri Lanka's video was included in FIRST Global's newsletter as an example.
The four members of the team – Ali Anwer, Ishini Gammanpila, Akash Gnanam and Vinidu Jayasekera – were Lower 6th members of our Robotics and Coding Club. All are planning to apply to the US in STEM subjects, with both Akash and Vinidu intending to study Computer Science. The students were assisted by the Robotics and Coding Club teachers, Mr. Shivashankaran Satchithananthan and Mr. Dilum Rathnasinghe, with the latter accompanying the team to Washington.
Team Sri Lanka was sponsored by Virtusa Corporation. Krishan Canekeratne, its Co-Founder and Chief Executive Officer, and the first Head Boy of CIS under Mrs. Moir, had this to say: "We are honored and delighted to sponsor Team Sri Lanka in the international Robotics Olympiad. The enthusiasm, intellectual curiosity and highly-refined problem-solving skills these students bring to the world of robotics is truly inspirational. These future technology leaders and STEM enthusiasts will be demonstrating that together, we can find solutions to the problems that affect each and every one of us on the planet."

<< Back